Voice Mail, Voice Mail Service, VoIP Phone Service, Phone Service, Unified Messaging, Live Answering Service | VoiceConnect, Inc.
We've been listening, VoiceConnect Launches New Website!!!
Listening and growing to work with our existing and new clientele is what we are all about at VoiceConnect! While it was six months of development, we are proud to unveil our new website for your product and user navigating pleasure. We have taken eighteen months of your feedback and created what we feel is the best all-around website of any communication provider nationwide. We hope you feel the same.
Besides some of the obvious visual and informational content that is now at your fingertips, You will also notice a different corresponding "virtual office" design template as well next time you log in, to keep your experience to the start-of-the-art quality that you expect from VoiceConnect. Let us know what you think of our changes and anything else that you would like to see from us at sales@voiceconnectinc.com.
---
VoiceConnect is now in 70 new local markets and 1000 cities nationwide!!!

VoiceConnect is proud to announce that we now provide local access numbers for all of our unified messaging platforms in more than 70 markets which include more than 1,000 cities nationwide. Offering these unparalleled services with local voice services, national and internal long-distance calling, internet access, and any other communication service in-between, VoiceConnect has you covered!
If you are an existing client, don't worry, we will have the ability to offer you local numbers in your market as well for a one-time account re-programming fee of $99.95 on your account. Feel free to check availability at www.voiceconnectinc.com or contact our sales department at sales@voiceconnectinc.com for any questions that you might have!
---
As per your request, did you know
that VoiceConnect now provides reverse address match for its
real estate clients?
You asked for it, and we built it. We got a lot of feedback from our real estate investor clients asking for the ability for the system to pull the physical addresses from all of the inbound callers to built VIP mailing lists and campaigns. Our new reverse address feature takes caller information from any inbound caller calling from any physical telephone line and delivered right to your e-mail box even for hang-ups for one low rate of $14.95 per month with unlimited usage. Just as our sales department at sales@voiceconnectinc.com how!
---
VoiceConnect launches new online billing and statement system!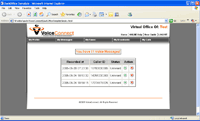 Providing quality service to our customers has always been a priority for us. That is why we are please to announce a new, user friendly and flexible website specifically designed for our customers.
Our new website will allow you to have much more flexibility when accessing your Virtual Office. In addition to a more user friendly website, you will also have increased functionality in your Virtual Office.
For your convenience, we have added an option to view your monthly billing statements online. Just click on the "Statements" menu bar and select the month you would like to receive a statement from. All statements will be illustrated in PDF format. It's that easy!
We are committed to providing high quality services and support to our customers. Thank you as always for your loyalty and we look forward to serving you. Let us know what you think of our changes and any other feedback that you would like to see from us with your billing system at support@voiceconnectinc.com.
---
Hey, now you have all of your bills online, did you know these billing FAQ's on what it all means?
Signup Fee - We charge a one time sign-up fee to help us cover the cost of staffing helpful Sales and Customer Service reps. that are trained to help you design, setup and manage your virtual office solution for the life of your account.
Prorated Monthly Recurring - Instead of charging you for a full month when you sign up, we prorate your first month's recurring fee so you only pay for the number of days left in the current month. On the first of the following month you will be charged for your first full month's recurring fee for the month you are entering (i.e. monthly recurring fee charged on the 1st of July is for the month of July).
Call Usage – is not a prepaid service. This means that you pay for your phone usage (or talk time) after you accumulate it. Instead of having you try to guess how many minutes you'll need each month and purchase a minute package, we only charge you for the minutes that you actually use. At the end of every phone call, the system calculates the cost of the call and charges the time in 6 second increments to your account. And of course, all transactions also appear on your monthly statement for your billing records. Please note, that at any time you can go to your Virtual Office on the web and view your accumulated minutes for any given month.
Options Requiring Additional Costs - For most folks, the setup fee and prorated monthly recurring fee are all you'll need to pay for at signup. If, however, you require optional services, other fees are applicable.
Port Fee - If you wish to use your existing toll-free number with our service, we will need to port the number over to VoiceConnect. This requires a bit of extra work on our end so there is a one time fee associated with this option. Please see pricing for current rates.
Voice Talent - We offer our clients professional voice talent recordings services for all or any of their messages. If you wish to have our voice talent record any of your messages, you will need to email your scripts to support@voiceconnectinc.com and we will email back an exact quote for the recordings you submit. If you are okay with the price then just reply back with your okay and we will charge your card on file and submit the scripts to be recorded.
Please note that you may have the voice talent record scripts at any time - not just when you sign up!
Ongoing charges
Monthly Recurring Fee - We bill your monthly recurring fee on the first day of each month. The monthly recurring fee will be automatically charged to your credit card on file. If your card on file is declined then the account is automatically suspended until other payment arrangements are made.
Call Usage - All calls are charged in six second increments with a one minute minimum. Billing for an "inbound" call starts when a call to your VoiceConnect toll free number is automatically answered by the VoiceConnect system (usually by immediately playing your company greeting and voice menu).
---
The New VoiceConnect Newsletter Keeps You Informed
One of the many new things that you will now receive from us is a quarterly newsletter to keep you informed on all of the latest and greatest things that we are working on for you!
Until next time,
The VoiceConnect Management Team